A new year is upon us, and with that comes new motivations for the 12 months ahead. We can use this time to think of ways we can make our lives and the lives of our feathered friends more enriched, less stressful, and healthier.
Make Your Menu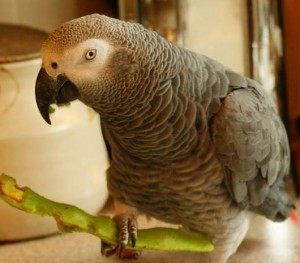 Knowing what's for dinner can make mealtime healthier and more adventurous. Not thinking about what to eat until you are feeling hunger pains increases the likelihood that processed, quick-to-make-foods sneak their way onto your plate at the expense of more nutrient-dense selections. For people, when you factor in the USDA's recommendation of consuming 5 to 13 servings of fruits and vegetables per day, depending on age, gender, and level physical activity, some degree of forethought is needed. As far as feathered family members are concerned, the start of a new year can be a good time to access how much variety your bird is being served.
If your bird is a feathered foodie, they might appreciate a rotation of nutritious vegetables and healthy fruits, and other healthy selections to supplement their main diet. If your bird is a picky eater, you might find the fix to be in offering a different vegetable each day until you find the ones they take a liking to. It could even be a matter of the way you serve it. Your bird's menu, for example, could offer fresh carrot wedged through the cage bars one day, and mushed steamed carrot another day. Planning out your bird's daily selection can help you zero in on their likes and dislikes, and ensures that your bird has the opportunity to try new healthy treats.
Make Your Interactions Count
For many people, the end of one year and the beginning of the next is a time for reflection, and it can also be a good time for us to count our blessings. Let's not forget to include our bird companions in the mix. How often do you take the time to tell your bird how wonderful they are? Even birds that aren't hands-on companions enjoy being talked to, and paying compliments is a sure-fire way to ensure your tone of voice is warm and inviting.
Use the year ahead to take those baby steps to earn your bird's trust if your feathered friend is skittish or shy, or to teach your bird a new trick. The month of January makes for a good point of reference to track your progress over the ensuing months. Imagine where you'd want to be a year from now, whether that is your bird being receptive to you gently petting their head feathers or sitting on your hand, teaching your bird the step-up cue, or noticing that your once skittish bird is more relaxed in their environment because you respected their boundaries and did not force interactions that might destroy trust.
Make Your Bird's Environment Shiny & New
It's tempting to put off cage cleaning to the end of week (or the end of the month!); after all, parrots tend to render their cages messy again soon after mealtime or playtime is over. But cleaning the cage at the end of the day not only lessens the amount of debris from being launched out of the cage in the event of wing-flapping, it can give insight into how often your bird is pooping (you'll  have an idea of what is normal for your bird, too); it can give you an idea as to what foods your bird is actually consuming and which they are ignoring; and you're sooner to notice if a new toy should be rotated in because the current one was destroyed. Conversely, if the same toy is ignored day after day, you're quicker to note that the toy is not one your bird likes. Essentially, a daily cleaning (cleaning food and water dishes, changing the cage liner, checking for wear and tear of perches and toys, etc.) helps you keep pay closer attention to what's going on in your bird's environment.
Make That Well-Bird Check-Up

Make no mistake, your avian veterinarian wants to see your bird in the new year. That can be at the start of the year, the middle of the year, or near year's end—whatever it takes for your bird to get their annual physical. Don't forget to set this important appointment and keep it. It's always better to be proactive when it comes to your bird's health than it is to take chances on a scenario where a treatable condition turns into a health concern.