She's a grande dame who over the years has made headlines for surviving more horrors than anyone should in a lifetime. And now, in the twilight of her life, she is again in the spotlight but unaware of the controversy surrounding her future.
Anne, Britain's last circus elephant, captured hearts in 2011 when video footage revealed her being kept in chains at a circus and being struck behind the scenes with a pitchfork.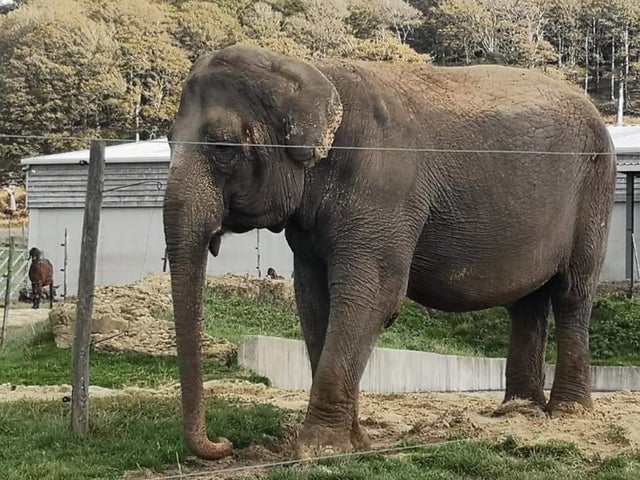 She was rescued – but now she has not seen another of her kind for 19 years, and activists want her to retire to a specially designed sanctuary with the company of other elephants.
Anne's plight has even prompted television star Joanna Lumley to call for her to be moved to the sanctuary in France.
Activists say "Britain's loneliest elephant", who spent nearly 55 years performing in the circus, shows clear signs of stress – and that a milder climate that would help her arthritis.
But they are battling with officials at Longleat Safari Park who have refused to let her go, saying the stress of a move abroad would be too risky for Anne because of her age as well as her physical and mental health. Besides, they say, introducing her to younger elephants after all this time would leave her in danger of being bullied.
Circus owner Bobby Roberts, 69, was found guilty of three counts of causing unnecessary suffering and of failing to prevent a groom from repeatedly beating Anne.
She was then transferred to Longleat in Wiltshire, which built a heated home specially for her, which she is free to move in and out of around the clock.
But animal-welfare lobbyists say the conditions are inadequate for an animal that needs company, more sunlight and environmental stimulation. They also claim Longleat has failed to provide Anne with a suitable pool to wallow in, plenty of trees and vast spaces to roam in, leading to her swaying, which captive elephants do when they are stressed.
Absolutely Fabulous star Lumley said: "It's unnatural and cruel for a highly intelligent, social female elephant to be confined alone, and Anne has been on her own for 19 years.
"Listless and dejected, she has nothing to enrich or stimulate her – her life is one of uninterrupted monotony.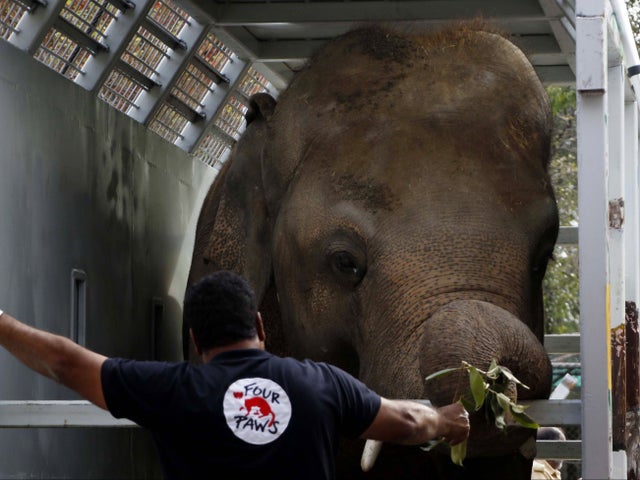 "It's time now for Longleat to do the right thing and release her to sanctuary, where she will have all her needs met and can finally live among other elephants, as nature intended."
Action for Elephants (AfE) UK and Animal Defenders International say a place is waiting for Anne at Elephant Haven in Limousin, France, which they say has also offered to fund the transportation. They are calling on Longleat to allow independent inspectors to assess whether she is fit to travel.
"She could roam freely there, something she has never experienced in her life. Most importantly, she would be with her own kind," says Maria Mossman, founder of AfE.
But, as Longleat points out, the French sanctuary does not yet have any pachyderm residents. Elephant Haven says that when any do arrive, they will each have huge spaces – at least five acres of land – to roam in.
Officials say Anne, who was born in Sri Lanka and came to the UK aged five, is very used to the British environment, and that none of her regular health checks has suggested any issues over the climate.
The activists also insist Anne never uses the pool in her enclosure as it's too steep. "There are no pictures of Anne being in the pool with the water above her ankles," Ms Mossman says.
A Longleat spokesman says: "We have never ruled out moving her to another home if somewhere suitable can be found. However, any decision must be based entirely on her specific needs and welfare."
An official inspection in 2019 recorded that the Longleat environment was "positively challenging and stimulating" and provided enrichment. But it also acknowledged "stereotypy" behaviour – swaying – which is caused by stress and is not seen in the wild.
"She has only a dead tree stump that has been there for five years," Ms Mossman adds. "There are lots of trees to the back of Anne's barn that she is not allowed to access.
"The report also said she has a mud wallow. I went to see Anne myself and there is no mud wallow.
"Cars drive around Anne all day, and if she wants to come out of her barn she has to go close to them.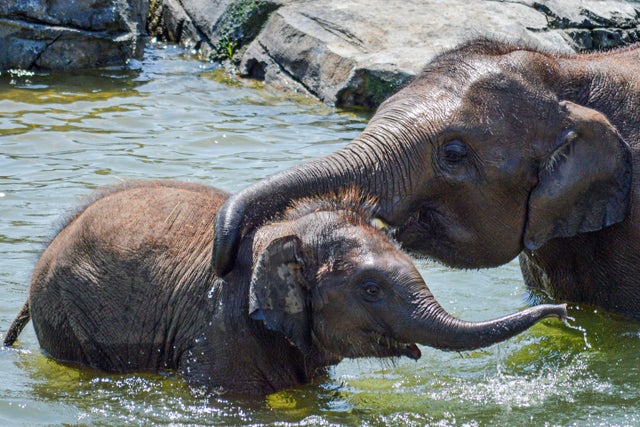 "I saw myself her standing in her barn swaying back and forth, something that Kaavan used to do but has believed to stop since moving to Cambodia."
The world celebrated when Kaavan – dubbed "the world's loneliest elephant" – was moved last month from miserable conditions in a Pakistan zoo.
AfE UK points out the 2019 inspection report does not mention her being frail, saying she was "looking remarkably good".
According to Longleat chiefs, Anne has a shallow mud pool but a deeper one could lead to her becoming stuck, and she shares her enclosure with a group of goats.
"Anne has a multitude of stimulation and enrichment devices in her outdoor and indoor living spaces including logs, branches, enrichment devices (balls, 'play' objects etc), mulch to play in and various feeding alternatives, which encourage her to use her trunk and improve her overall mobility," the spokesman says. "The trees, logs and branches are regularly changed within both her indoor and outdoor spaces."
Anne's stress, such as swaying, has improved in the past decade, but, he adds: "She will, on occasion, revert to swaying and it is likely this is something she will continue to do from time to time for the remainder of her life."
The elephant-welfare activists, though, feel let down.
Ms Mossman says: "Anne was never meant to remain at Longleat after her removal from the circus. It was envisaged that she would be relocated to a more appropriate environment, one able to fully meet her social and behavioural needs and physical wellbeing.
"Longleat announced plans for an elephant sanctuary but in 2014 these plans were scrapped.
"It is now 19 years since Anne has seen another elephant. Ten of those years are because of Longleat not fulfilling their aim of reuniting Anne with her own kind. Ten more years of loneliness and deprivation that need never have happened.
"If Anne was independently assessed and not fit to travel, then of course we would not pursue this," says Ms Mossman.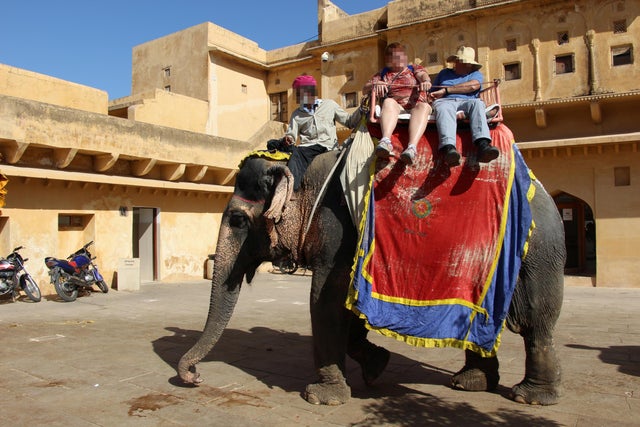 Longleat declined to reveal to The Independent the identities of the experts who have already assessed Anne. But the Born Free Foundation has said it supports a new independent veterinary assessment of her health and whether she would be fit to travel. And Scott Blais, founder of the US-based Global Sanctuary for Elephants, is encouraging a move to France, based on seeing video evidence of her.
The park spokesman says they had initially hoped to build a sanctuary but after assessing Anne, decided company would not suit her.
There is footage online of the time Longleat played elephant calls through speakers to her. She came out of her barn looking for the herd. "We can't imagine how she must have felt once she realised there were no actual elephants there. It showed she desperately yearns company of her own kind," says Ms Mossman.
Even Anne's age is disputed: some believe she is nearly 70 now, but AfE says it has evidence suggesting she is up to 10 years younger.
Hundreds of thousands of people have signed petitions calling for Anne to be moved or her conditions improved.
One says: "Elephants are complex social animals and in the wild spend most of their day interacting in social activities." Longleat says it recognises this but the risks to Anne of a journey abroad and of being bullied by another elephant are too great. Officials say independent inspectors have previously judged a move too risky.
The spokesman added: "The reality of her situation now is that she is a very elderly elephant with significant underlying, as well as age-related health issues, the latter of which will sadly not improve.
"In addition to physical and mental abuse from her previous 'keepers', there is also evidence she was bullied by the elephants she was kept with. The dangers now of attempting to mix her with other elephants are, in the opinions of numerous independent welfare experts as well as the team who care for her, extremely high."
Anne is regularly assessed by independent organisations, he said, and has a full annual check-up with suggested improvements to her care.
"Our sole aim is to try and ensure Anne is able to live out her remaining years in a safe, secure, familiar and, above all, loving environment."
Ms Mossman points to her photo, showing greenery behind the barn. "It's heartbreaking to see those trees in the background that she can't access."
This article was first published by The Independent on 8 January 2021. Lead Image: Cars drive past as Anne walks from her enclosure out into the open (Maria Mossman, AfE).
---
What you can do
Support 'Fighting for Wildlife' by donating as little as $1 – It only takes a minute. Thank you.
Fighting for Wildlife supports approved wildlife conservation organizations, which spend at least 80 percent of the money they raise on actual fieldwork, rather than administration and fundraising. When making a donation you can designate for which type of initiative it should be used – wildlife, oceans, forests or climate.