Let's face it. We love our birds. We love them in the wild where we can watch them being completely themselves uninterrupted by anything other than being aware of preying species. And we certainly wouldn't be here if we didn't love exotic birds in our care. Every color, every revelation of intelligence, and every sighting makes our pulse quicken in ways that other seemingly mundane world views do not. (Do you get excited over a traffic jam, messy roadways, and other unsightly or unwanted visual stimuli? I thought not.) Birds are in our everyday life in so many ways. If you're one of the lucky ones who care for a winged friend, then this is even more accentuated.
There are a group of extraordinary people that take birding (watching them in the wild as a hobby) to an even greater extreme. They count the ability as a tremendous gift made freely available to them. Some go to great lengths to catch sight of a bird that is rare to the human eye. There is a developed term for these birdwatchers. It's called "twitching." Yeah, I know. Me, too! I was pleasantly surprised to discover such a term and behavior, but it exists. And it is a noun used to describe an obsessive compulsion to travel great distances to find otherwise rare birds, birds that would not normally be seen in a natural setting.
What's with the Twitch?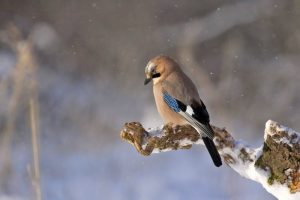 Twitching is a revered application of an assigned phrase to describe those who are extreme birdwatchers. As the story goes, the term derives from a story of two British bird fans from the '50s who used motor bikes to travel from location to location just to catch sight of a bird they have not seen. Cold weather did not deter these two UK fans in preventing them from an immersive experience.
As the weather grew even colder, the two would shiver on their bikes – or "twitch." The term stuck and is now used worldwide to describe those who stop at nothing to catch sight of a rare bird found in a discovered location. If you were to look on the internet for the origin of twitching, you're more likely to discover that the term is attached to Howard Medhurst, an avid British birdwatcher. He exhibited a twitchy motion as part of his normal behavior pattern. He would travel great distances to catch sight of a bird, all at the drop of a hat. That makes twitching a more revered and honorary designation for a person who is super-indulging in an acquired and compulsive habit of birdwatching.
Extreme Birding
Today, to "twitch" means to stop at nothing to catch sight of any bird. No expense is spared, no location too far, and no means are too difficult if it will present a wonderful view of a bird that few are lucky to see in the wild. Recently, a surge of twitchers flocked (sorry) to a location in Maryland at the Chesapeake & Ohio Canal National Park to catch sight of an unusual appearance of a Painted Bunting. The bird is explained to be too far north for its normal movement, but this one out of place bird captured the fancy of every avid birder–or twitcher worldwide to catch sight of this beautiful bird away from its normal range. This sighting caused entry snarls to the park and was the place to be for lovers of birds. Armed with cameras–some quite expensive–twitchers from all over shivered in the cold weather simply to snap a lasting photo.
Twitchers go the extra mile for everything simply to tick a rare bird sighting off a meticulously compiled list. Simply put, a twitcher is the most avid, the most enthusiastic of all birdwatchers…or more likely, bird-chasers.
Do you twitch?