It's not unheard of for cats to stroll into stores and make themselves comfortable among the shelves. As we well know, felines own whatever space they're in, whether it's private or public domain. And a Tesco market in Rugby, Warwickshire, UK, has been claimed by one rather purrcocious kitty with an obvious appetite for life.
He's known around the store, coming and going as he pleases, but store customers are sometimes surprised to find the white cat and his grey tabby tail padding the aisles.
Melanie Morris-Jones was one shopper surprised to find the hefty cat sprawled out in an aisle. And she found herself so ticked by the kitty, she had to snap a picture.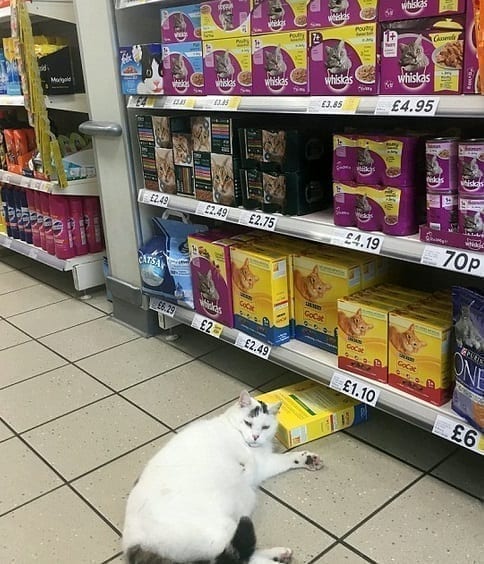 It seems the pudgy cat knew right where to find the cat food in his favorite store and headed for the cat food aisle. Lucky for him, the Go Cat crunch was right within reach. And the Tesco cat has picky tastes, opting for the more expensive box! Or could it be he wanted the bigger box to fill his big belly?
Whatever his motivation for this particular box of kibble, the kitty got sleepy mid snack heist and decided to have a laydown right there in the aisle. Stumbling upon the cat and his 'can I help you' stare, Melanie shared, "I came across the cat just lying there next to the box of cat food it had knocked off. It had clearly tried to go for the food but I don't know it must have just given up."
Snack n' Snooze Regular
Stunned, Melanie headed for the checkout and "I asked the cashier if she knew there was a cat over in the pet aisle."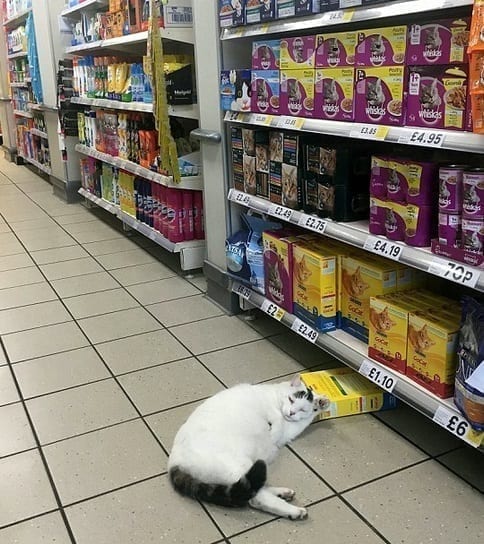 "She said yes she knew it was there and that it was a regular. I'm not sure who owned it – but it was completely chilled out. The cat looked like it didn't even care."



And surely Melanie has the right of it. This kitty must have a home or at least some friends in the area, because cats don't get chubby without lots of snacks. And typically, stray cats have to scrounge for their dinner, meaning they aren't usually so delightfully plump. That comes after finding a forever home to give them the love and snacks needed to round out a kitty tummy!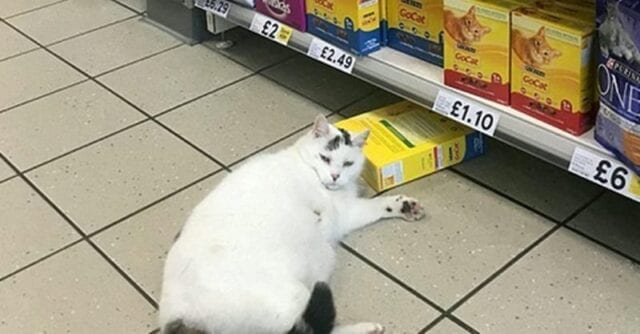 So, whatever the Tesco cat's tale, he looks pretty well taken care of! And he's not a cat who's afraid to get what he wants either. Whether it's a snack or snooze!
Need more cats running the store? Check out this gallery of shop cats who look like they own the place!
Please SHARE to pass on this story to a friend or family member.
H/T: www.fascinatingthings.net
Feature Image: Courtesy of www.fascinatingthings.net