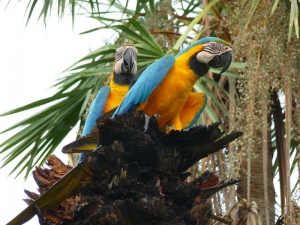 Wild parrots need our attention and help, not only to thrive but often simply to survive. Many worthy research and conservation organizations are working hard to protect a wide diversity of parrot species. Lafeber is committed to helping. We hope you will be inspired as well.
This month takes us to Bolivia, South America. The Conservación del Loro Boliviano Foundation, or CLB, (www.fclbolivia.org), is a relatively new organization. Formed in 2011, it describes itself as young, but full of life. Based in the city of Santa Cruz de la Sierra, CLB is comprised of people with a deep conviction to the preservation of biodiversity and habitats. The Conservation Director is José Antonio Díaz Luque, who is also a conservation programs facilitator for the World Parrot Trust.
Bolivia is home to more than 2,900 animal species, including over 1,400 birds (about 14% of birds known in the world, and the sixth most diverse country in terms of bird species).. There are 54 Psittacine species, ranging from the critically endangered red-fronted and blue-throated macaws, to a diverse number of other macaws, Amazons, conures, and Pionus species. 
Bolivia has gained global attention for its "Law of the Rights of Mother Earth," which accords nature the same rights as humans. Passed in 2010, it defines Mother Earth as "…the dynamic living system formed by the indivisible community of all life systems and living beings whom are interrelated, interdependent, and complementary, which share a common destiny." This law recognizes the need for equilibrium, restoration, clean air and water, and, most importantly, the diversity of life. This is good news for parrots.
On the other hand, one third of the country is in the Andean mountain range and home to 20% of the world's glaciers. This means Bolivia is particularly sensitive to climate change. We know that a change to any part of a habitat may greatly affect another, and all the ecosystems associated with it. This may leave parrots more vulnerable.
Bolivia is also home to a lush Amazon basin, as well as dry, rugged scrub filled with cacti. Parrots are indigenous to all these areas. Protecting wild parrots requires action on many fronts, and it is especially complicated given the wide diversity of habitat and life in Bolivia.
Here are some of the important things the CLB Foundation has done recently.
Rescue & Rehabilitation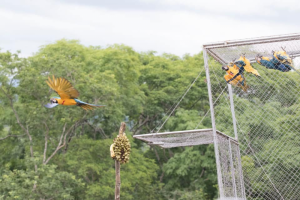 Birds confiscated by trappers often require medical care and rehabilitation. CLB participated in a 20 month rehabilitation effort for a group of blue-and-gold macaws, yellow-chevron parakeets, and white-eyed conures. They were successfully released back into the wild in December 2019, the first parrot release ever authorized in Bolivia. Upon observation of the birds one month later, the results were very positive!
CLB is also working with the Endangered Species Research Center (CIESA) to develop critical facilities for parrot rescue and rehabilitation. This will be the first facility on its kind Bolivia, a country where the illegal parrot trade is still a massive problem, so there is an overwhelming need for proper rehabilitation and release. 
Community Outreach
Critical to conservation is an interested and committed local community. Without this support, trappers have few constraints, and habitat is destroyed. CLB knows that, and this is why it is laser focused on supporting local organizations that are leaders in conservation in their regions.
These communities promote fairs and events that not only promote conservation but also generate economic activity for the local population.
For example, CLB supported the development of the first festival for the conservation of the blue-throated macaw in the Gran Mojos Municipal Protected Area, and 50 people from the local community participated in activities such as drawing, painting, talks and a field activity to learn about the blue-throated macaw in the wild. For the red-fronted macaw, CLB supported the Jardin Cactaceas Municipal Protected Area in the development of its first fair for the endangered red-fronted macaw, where more than 60 participants were able to purchase products derived from mango fruits, liqueurs, and jams from eight producers of the communities of Anamal and Las Juntas, an important breeding region.
Involving children is especially important! The goal is to increase and maintain community pride and participation for years to come, as well as ensure new activities are created to support community development. CLB is committed to this huge effort.
Research & Publications
The Conservation Director of CLB, José Antonio Díaz Luque, was one of 11 contributing authors to the October 2019 study about the ecological reasons that parrots waste food. This study involved 103 parrot species, including 26 from Bolivia. What wild parrots eat is also an important area of research, and helps us better understand our parrots in captivity. In April 2020, he was also an active participant in a published scientific study on the critical role of blue macaws (including the hyacinth macaw) in seed dispersal in their natural environments, which shows the importance of the species in the ecosystem and the need to preserve them.
Habitat & Environmental Protection
Protecting existing nests is essential. Equally important is expanding potential habitat areas. This often means working with private land owners to minimize habitat loss. CLB is building relationships with local ranchers to locate nests and preserve those areas on private property, as well as continuing support the protected areas team where those endangered species survive.
Lafeber's $500 GLOBAL PARROT conservation grant this month goes to the CLB Foundation for its continued good works. There are several ways you can also help the parrots of Bolivia.  Visit the CLB campaign page or make a tax-deductible donation through the World Parrot Trust (parrots.org) specifically noting it is for CLB.